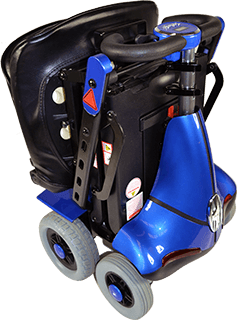 The Mobie mobility scooter is one of the lightest and most portable fold-away electric mobility scooters available on the market today. The Mobie folds away in as little as five seconds, and can then be wheeled around like a suitcase or placed into a car boot for further transport.
Pavement-legal and ready-to-go, the Mobie offers plenty of ground clearance and is suitable for outdoor use, covering uneven ground with ease.
On a full charge, the battery (which is conveniently stored along the base of the unit), provides a range of up to 10 miles (16km), which is normally associated with much larger mobility scooters. The battery can be charged in-place or removed for charging off-board, which is great for saving space and keeping your batteries safe.